DevEditor
DevEditor is a java application which enables users to read MusicXML/DeviationInstanceXML files and show, play, edit and save their performance deviation information. It is available for as a free software.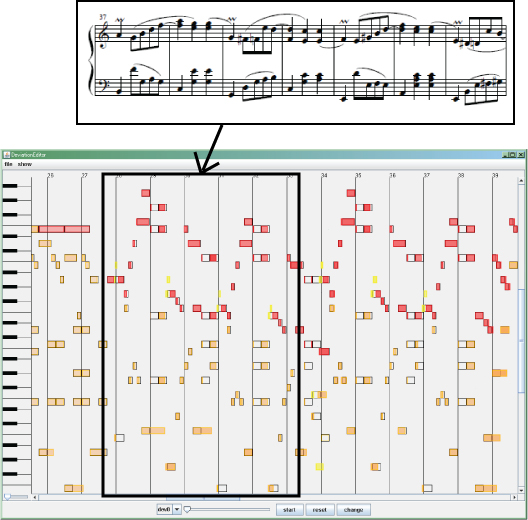 Main functions:
Reading MusicXML files
Reading/writing DeviationInstanceXML files
Editing/saving performance deviation
MIDI Playback
Viewing tempo graph etc.
Latest version
See also: CrestMuseXML (CMX) Toolkit
http://sourceforge.jp/projects/cmx/
How to use
sorry, under construction
What's new
Apr. 19th, 2010
CrestMusePEDB 2.4.1 is available! [

more...

]
Nov. 19th, 2009 DevEditor 0.20 is available! [

more...

]
Database
CrestMusePEDB 2.2
(59 performances)
CrestMusePEDB 2.3
(21 performances)
CrestMusePEDB 2.4.1
(20 performances)
To be released...
Nov. 2010
20 performances
in 2010
newly 20 recorded performances (SMF)
2010 later
expression structure data
of 20 performances from PEDB and 20 newly-recorded performances
Tools
DevEditor

0.20
(screen shot)
DeviationExtractor
will be released in Apr., 2010 (extended)
CSV Converter


is included in DevEditor 0.20

.
PEDB Player 0.1b


is included in DevEditor 0.10

.
Online References